I have created a Shakuhachi Fingering Chart application derived from the Fingering Chart of Zensabou Honkyoku. It allows the user to select the register (Otsu, Kan, Daikan), the length of the flute (1.5 to 2.7), and either the written Japanese character, pronounced Japanese note name, or Western note name to see the fingering associated with the note. Below is a screenshot (reduced size) of the application: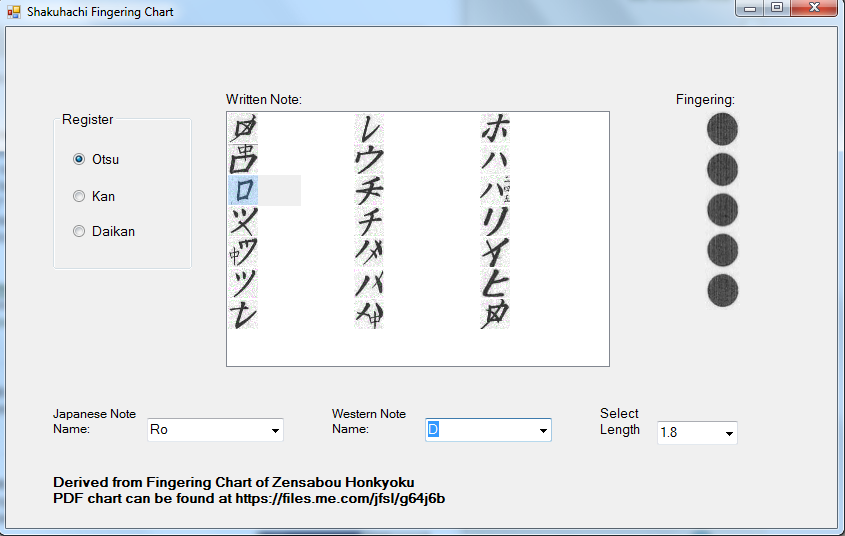 Click here for instructions on how to download and install the application:
Right-click this download Shakuhachi Fingering Chart application link.
Choose "Save Link as..." and download the FingerChart.zip folder to a location on your hard drive (I like to use the desktop).
Right-click the FingerChart.zip folder you just downloaded and choose the option to unzip or extract the items from the folder.
Open the new folder and double-click on "setup.exe".
Follow the instructions from the Installation Wizard that should start.
Once installed the program can be accessed from Start -> All Programs -> Microsoft-> Shakuhachi Fingering Chart to start it. If you want to remove it go to Start->Control Panel and then use "Add or Remove Programs" and remove "Shakuhachi Fingering Chart".
Note - Since the app is written in Microsoft C#, it will only run on Microsoft operating systems with the .NET framework installed. The .NET framework should already be installed on Vista and Win7 PC's. If you have an XP PC the .NET framework may already be installed from some other program you have used in the past, if not the setup.exe will install it. What all this means is just be aware that the .NET framework is a large install, otherwise the Shakuhachi Fingering Chart application is a compact and easy to install program.